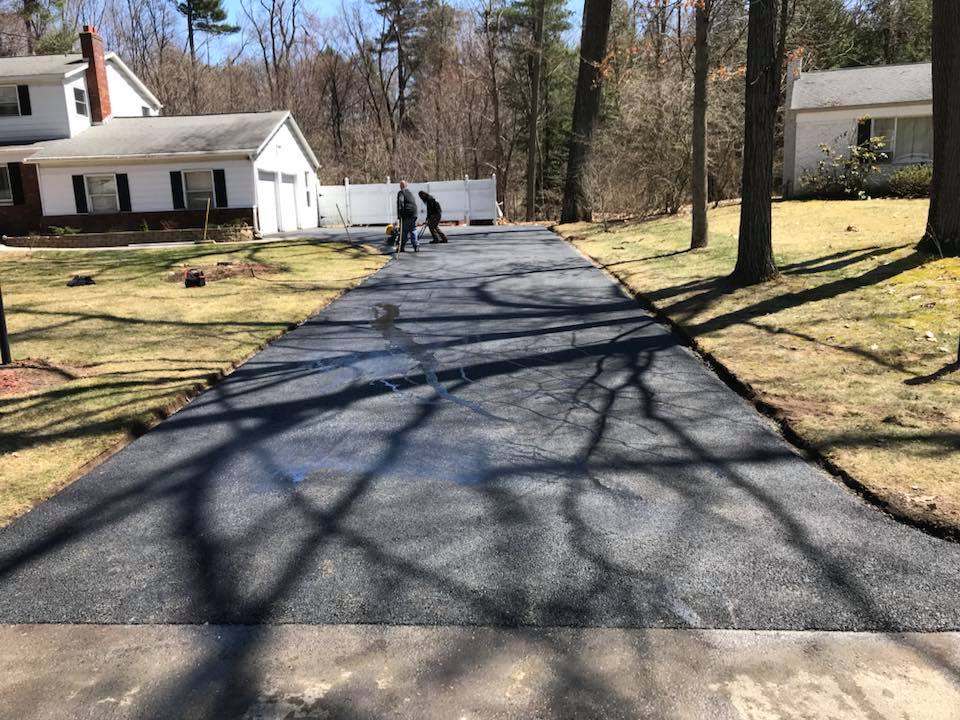 For round-the-clock protection from the elements, your asphalt needs industrial-strength sealcoating. At J.H. Paving, we provide residential and commercial sealcoating for properties of all sizes in the Albany area–and we have the professional-grade solutions for you. Whether you work with us for parking lot sealcoating or driveway sealcoating, you'll benefit from our 20+ years of experience in the business and our unfailing commitment to high-quality workmanship. 
So, if your asphalt has started crumbling, cracking, fading, or showing any other visible signs of wear, call J.H. Paving right away. Our driveway sealing contractors have the expert skills and top-shelf asphalt materials to repair asphalt damages and prevent deterioration for just pennies per square foot. The result will be more money in your wallet and a sleek surface that is long-lasting, safe, and beautiful. Don't hesitate and risk the development of further damages. Schedule your appointment with us today!
Benefits of Asphalt Sealcoating
Parking lot and driveway sealer consists of a coal-tar emulsion and is essentially a heavy-duty barrier for your asphalt. The frequency with which your property requires driveway sealing depends on your particular circumstances.
Sealcoating your driveway can help safeguard against:
Oxidation—Oxidation occurs when your bare asphalt is exposed to ultraviolet rays from the sun. If not properly covered with seal coating, the persistent sunshine will cause your asphalt to dry out and harden. The disintegration of the top layer of your pavement results in reduced thickness and increased weakness, encouraging the development of cosmetic problems and possible safety hazards such as cracks and potholes. Without timely driveway sealing or parking lot seal coating, oxidation can also turn black asphalt to an unsightly gray color.
Weathering—The penetration of moisture coupled with seasonal freezing and thawing can also cause serious flaws in your asphalt. Even what begins as a hairline crack can quickly turn into a huge fissure that runs right down to the base coat and could create the need for costly asphalt repair. Seal coat application prevents rain and snow from penetrating the porous surface and increases your pavement's longevity.
Softening—Substances such as gasoline, oil, and de-icing agents can have softening effects on your driveway or parking lot. Routine seal coat application can create a barrier between the underlying asphalt and these damaging materials, effectively protecting your driveway.
How Our Residential and Commercial Sealcoating Service Works
At J.H. Paving, we're here to make resealing your driveway simple and easy!
Whether we're sealcoating a driveway or parking lot, the process is largely the same. Here's what a typical asphalt sealcoating service from J.H. Paving looks like:
We begin by repairing any holes and cracks in your asphalt. We'll apply hot tar with a hand brush or spray-on applicator, depending on the magnitude and nature of the project.
Next, we will put down your new layer of top-quality seal coating with a squeegee or a spray-on mechanism, making sure to reach every last inch of your driveway or parking lot and keeping the layer completely even.
After we're finished, one of our driveway sealing contractors will let you know about the proper waiting time before driving and walking on your surface, provide you with any needed maintenance or care tips, and answer any questions you may have about your new blacktop sealer or the driveway sealing process. 
Typically, sealcoating a driveway or parking lot should be done every one to three years. Unlike some sealcoating companies, J.H. Paving isn't the type of company that will do a poor job in order to force you to call for our services on a more frequent basis. We are a team of honest, hardworking sealcoating contractors who believe in the importance of professional integrity and customer care. That's why you can always trust us to outfit you with driveway or parking lot sealcoating that is durable enough to last season after season.
To set up an appointment for your home or business and to find out how we differ from other driveway sealing companies, contact us today. We proudly serve Albany, Troy, Saratoga, and other nearby communities in the Capital District.